---
Visit the MadWeather Blog

WEATHER SUMMARY LAST THREE DAYS - JULY 18 THROUGH 20 , 2008
Very interesting storms and MCSs impacted southern Arizona each of the last three days and the following provides a brief summary of each day, along with some digital images.
Friday - July 18, 2008
After heavy rains earlier in the week, the boundary had heated and recovered. Strong pressure falls indicated that deeper moisture, which was lurking just south of the border lands, would probably return. This did happen beginning Friday afternoon and continuing on Saturday morning. Although CAPE was marginal, the wind shear profile was favorable for organized convection. A large MCS developed by evening and moved across southeastern Arizona and northern Sonora during the night. See Image 1:

Image 1
This MCS produced widespread wind gusts of 30 to 50 mph that affected most of the observing stations in the southeastern part of the state. The outflow blew by the house a bit before 9 pm with a lot of noise and dust, followed by light showers before 10 pm that amounted only to 0.01". Other gusts (mph) noted: Atmo roof 58; Tucson 49; Rucker 49; Nogales 47; Guthrie 46; Safford 45; Davis Monthan 43; and Hopkins 42.
Only 9 of the 91 eastern Pima County Alert Gauges reported measurable rainfall, but most of the RAWS stations south of Sells to Saguaro to Trail Cabin line reported measurable rains with Carr having the largest measured amount at 1.22 inches.
Saturday - July 19, 2008
The outflows on Friday had cooled the boundary layer and storms at lower elevations were not triggered until late afternoon and evening. Favorable wind shear continued for organized convection. Several very impressive MCSs formed and lasted through the night. See Images 2 and 3. Cloud bases were lower and the storms produced mostly moderate to heavy rains with many observing sites measuring 1 to 2 inches and more. All of the Pima County Alert gauges had measurable rainfall by 6 am Sunday morning, as did all reporting stations and RAWS stations in southeast Arizona.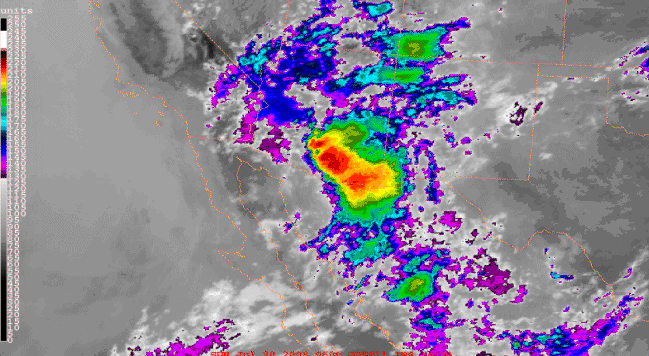 Image 2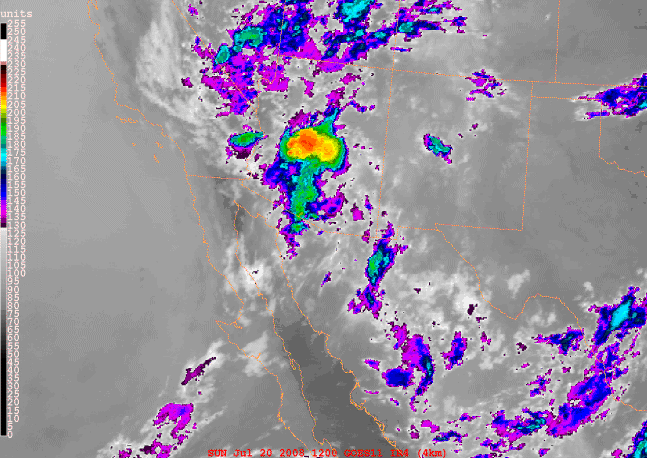 Image 3
A very intense storm moved westward from the Catalina Mountains just before dark. This storm exhibited severe characteristics and probably produced high winds and hail, even though there were no reports. Image 4 shows the storm from our backyard looking west and Image 5 shows the nearly concurrent KEMX radar reflectivity image.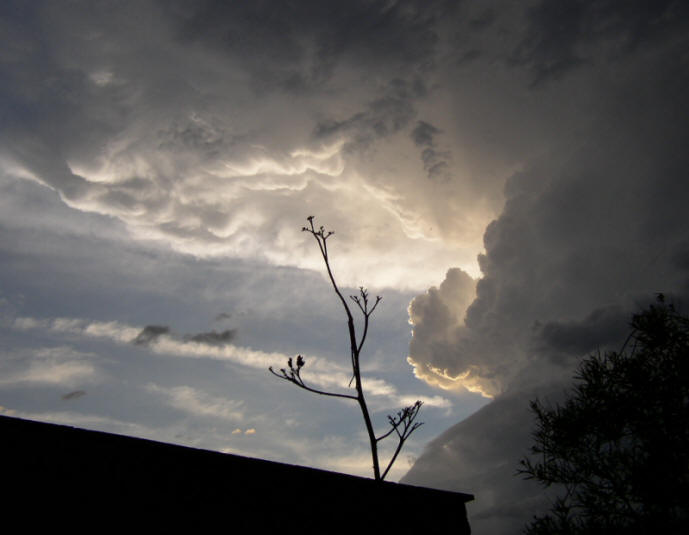 Image 4

Image 5
During the night I had 0.80" of mostly anvil rain with little or no thunder. Cyrus Jones reported 1.10" 1.8 miles NNE of the Atmo Building. Mike Leuthold got the MCS IR images and the radar image for this summary.
Sunday - July 20, 2008
Moisture levels remained very high but winds had gone to light and variable in the troposphere. Thus, heavy slow moving storms predominated, mostly over elevated terrain. The Pima County Alert gauges showed measurable rainfall at 37 of the 91 gauges and the 13 RAWS sites in southeast Arizona had measured rain at 9 of the sites. There were several flash flood warnings issued and the greatest amount I saw at an observation site was 0.99" at Ft. Huachuca. Had thunder here at house for about 90 minutes but not even a spit of rain.
Photo Gallery of other recent storms:


Image 6 - Cbs to northeast on July 8
Images 7, 8, and 9 below show a severe storm about 5 west of Sonoita AZ on July 12 :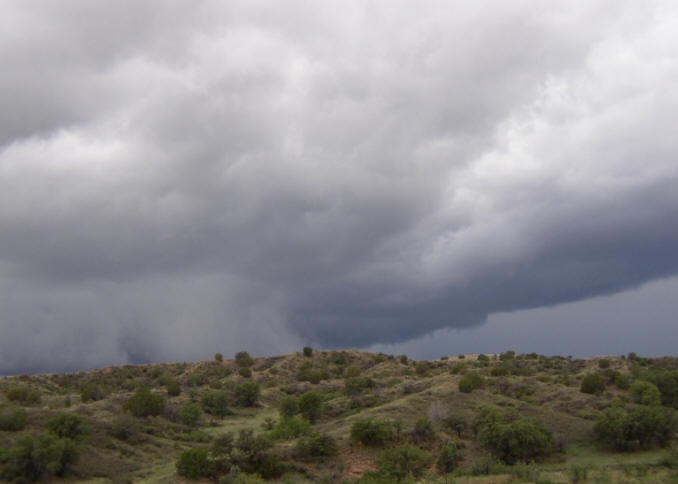 Image 7

Image 8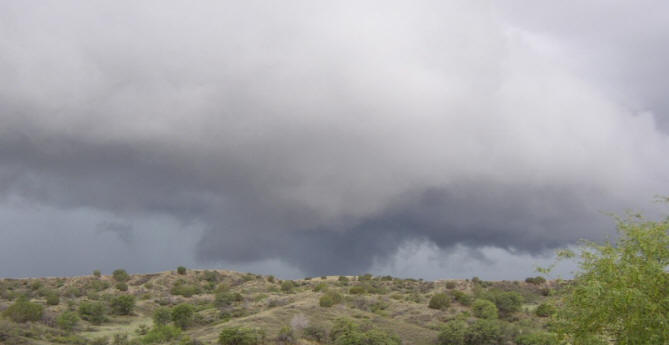 Image 9
Images 10, 11, and 12 below show a lightning display near El Paso on July 17 (Photos from Mike Hardiman) :

Image 10
| | |
| --- | --- |
| Image 11 | Image 12 |
---