Dear everyone--this is a newsletter.

Dear Larry and Larry,
I am assuming you are still reflecting and speaking about your recent trip to Gaspard. I just wanted to give you a little follow-up on one of your experiences. Do you remember the little boy that the nurse called us to see at the clinic after the wedding? The boy had a very large abdomen, swollen legs and ankles, and was very weak. He appeared to be suffering from a type of malnutrition called kwasiorkor. The mom was very weak, too---and confused. The mom said his name was Libonson, but she wasn't sure how old he was. The nurse opened his mouth and looked at his teeth and estimated he was 4 or 5 years old. With the nurse, we decided that it would be best to send him to the clinic at Bonneau, where the Daughters of Wisdom sisters have a better facility After that, Larry Hurm carried him to a nearby house, where the mom decided to wait for the dad before going to Bonneau.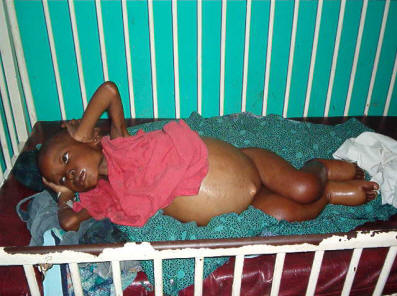 Last Friday, Sr. Marie Levie, one of the nurses from Bonneau, was in PdPaix, and I asked her about the boy. She said that the mom and dad had brought him, along with their baby, to the Bonneau clinic. The nurses fed him (along with the mom, dad, and baby) for about 2 weeks. When there was no improvement, they decided there must be another problem. So they sent them to the hospital in PdPaix.

We decided to go the hospital that morning to see if they had arrived...and there they were, mom, dad, baby, and the young boy with the swollen abdomen. It turns out that his name is Lixson----and he was in worse shape than when we saw them in Gaspard. They had no food, no good drinking water, no medicine, and no money. They had been at the hospital for 3 days. Sr. Marie was surprised he was still alive. After we left, Sr. Marie and I talked about his options. It was decided that I should try to talk to the Cuban doctor.

Saturday afternoon, I brought some water and some rice, beans, and meat (left over from lunch at the convent) for them. The dad had left with the baby to return to Gaspard. The mom thought he might come back to PdPaix on Monday. I was able to find the young Cuban doctor to ask her if she had any idea what the problem might be. She said it was not just malnutrition, because his arms were not swollen; in fact, they were extremely thin. She had tried to extract fluid from his belly, and she got a mixture of water and blood. She figured that he might have some type of tumor. There was nothing she could do for him. I gave the mom a little money, and told her to buy food with some of it, and to save the rest for the tap-tap ride they might need later.

Sunday, I was out of town for an ordination. I returned to the hospital on Monday afternoon--again with meat, yams, and water left over from lunch. Lixson had made it very clear that he did not want peanut butter, bread, soup, vegetables, oatmeal, or rice. Only meat and Tampico, a kind of fruit punch. I was surprised at how alert his eyes were, and I was surprised that he had the energy to eat. His breathing was very labored. The doctor was not there, and the mother was even more confused than before.

On Tuesday afternoon, I arrived about 2 PM. Lixson's bed was empty. The nurse said that the dad had arrived about 10 AM that morning, and that they had packed up their few belongings to return to Gaspard. I have written to Fr. Phechner to see if they arrived and to see if Lixson is still alive. No response yet. I will let you know if I receive any news.