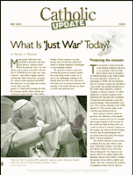 What is 'Just War' Today?
by Thomas A. Shannon, with
Thomas A. Massaro, S.J.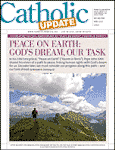 Peace on Earth: God's Dream, Our Task
Kenneth R. Overberg, S.J.
Trinity Video
FOLLOW-UP LINKS:

Peace on Earth - Pacem in Terris
Encyclical of Pope John XXIII
On Establishing Universal Peace In Truth,
Justice, Charity, And Liberty
(1963)
Spanish
The U.S. Bishops' 1983 Pastoral Letter on War and Peace:
The Challenge of Peace: God's Promise and Our Response, [pdf]
Finding Renewal - Why the
pro-life movement should
return to its roots
America 2-16-09
Confronting a Culture of Violence:
A Catholic Framework for Action
U.S. Catholic Bishops Pastoral
(1994)
Examining Our Convictions:
Discipleship as a Matter of Choice [pdf]
by Kenneth R. Overberg, S.J.