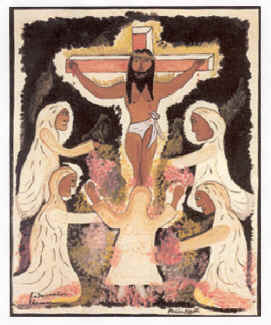 The Adoration of Love
(La Dauration l'amour)


by Hector Hyppolite ~ Haitian artist

Prayer for the Haitian People
Loving God,
Your children in Haiti have suffered
from hunger, disease, poverty and injustice.
We recognize them as members of Your Mystical Body
and desire to share in their struggle for justice.
Knowing that God does not make people suffer,
rather it is we who allow the suffering,
help us to replace our complacency with compassion.
May we, who have so much,
be willing to share with those who have so little.
As we are called to see Your Face in the faces
of those who are struggling to survive,
remind us of our obligation to maintain
the dignity of human life.
Bless those who give their time and resources,
inspire others to join in this mission of aid
and bless in a special way those
who have been called to minister to them.